Barbados Film & Photography Production Services & Camera Crews
Are you a media company, brand, ad agency or production company looking for film / photography production support or shooting crew in Barbados? Contact us for trusted fixers, producers, directors, DoPs, videographers, photographers, and full shooting crews tailored for the specific needs of your project.
Filming in Barbados
For an introduction to shooting in Barbados see below notes on film locations, permits, when to shoot, unique local stories, costs, tax incentives, crews, talent, equipment, communications, art department, studios, post facilities, visas and work permits for filming, transport, film-friendly accommodation, and safety advice.
Barbados Film Locations
Barbados is the most easterly island in the Caribbean. Barbados is famous for its white sand beaches and turquoise waters, coral reefs, surfing, luxury villas, golf courses, tropical gardens, unique pastoral landscapes, British colonial architecture, and plantation houses.
Agricultural film locations include plantations of sugarcane, yams, sweet potatoes, and corn.
Barbados is known for its rum distilleries such as West Indies Rum Distillers Ltd, Mount Gay Rum, and Four Square.
The Bold and the Beautiful (1996) filmed in part in Barbados.
Rihanna, the island's favourite daughter, has filmed several music videos on the island.
Film locations can be divided into the following parishes: Christ Church, Saint Andrew, Saint George, Saint James, Saint John, Saint Joseph, Saint Lucy, Saint Michael, Saint Peter, Saint Philip, and Saint Thomas.
Bridgetown is the capital and main population centre. Film locations of note include the neo-Gothic Victorian-era Parliament Buildings, George Washington House, Kensington Cricket Oval, Garrison Savannah historic horse racetrack, and the cruise ship port.
Bathsheba Beach is a popular surf beach. Other paradise beach locations include Silver Sands, Dover Beach, Pebbles Beach, Brownes Beach, Paynes Bay Beach, Carlisle Bay, Folkestone Beach, Alleynes Bay, Gibbs Beach, Bottom Beach, Mullins Beach, Crane Beach, Worthing Beach, and Miami Beach.
Barbados Wildlife Reserve is home to green monkeys, red brockets, red-footed tortoises, Patagonian maras, Cuban rock iguanas, and numerous tropical birds.
Harrison's Cave is an interesting limestone cavern.
Morgan Lewis Windmill is a restored sugar windmill.
St Nicholas Abbey is a historic location.
The Barbados Concorde Experience located in an aircraft hangar just outside of Grantley Adams International Airport is the final resting place of the Concorde jet.
Barbados Film Location Permits
Permitting in Barbados is a quick and easy process. Shoots that require exclusive use of public space generally only take a couple of days to permit. Beaches are public access. Drone filming is permitted (with registered operators). Fees are minimal and often waived altogether. Barbados has a very film friendly attitude. Please contact us for location specific information.
When To Shoot?
Barbados has good weather all year round. The high season from December to April is marked by warm, sunny days. The low season from May to November is marked by warmer temperatures and brief rain showers. Barbados is often spared the worst effects of the region's hurricanes due to its far eastern location. For monthly weather statistics please see here.
Events of interest to filmmakers and photographers include:
• The Holetown Festival in February.
• Oistins Fish Festival in March / April.
• Crop-Over Festival carnival celebrations in the first week in August.
Public holidays may affect timing, availability and costs. See here for public holiday dates in Barbados.
Unique Local Stories
Brands are looking for local stories that match their brand narrative. Our local teams are a great lead for sourcing those unique stories and characters.
If you are looking for stories for your next shoot, send us your brief and we will pitch you ideas.
If you have a unique story you would like to pitch to a brand anywhere in the world, pitch us your idea. We have well-established processes to ensure that your ideas are properly seen and protected.
Costs & Tax Incentives
Costs. Barbados is a relatively inexpensive Caribbean film destination. Good deals can be found for accommodation particularly in the low season. Experienced key crews are comparable to US prices. Imported goods are relatively expensive as is the case with much of the Caribbean. Some key crew and equipment may need to be brought in from abroad, which will add to those costs. Our Barbadian fixer / service producer will negotiate local deals and provide the appropriate level of production support to match every budget.
Tax Incentives. At present there are no tax incentives for foreign commercials or films shooting in Barbados. Visiting productions can apply for a VAT refund on local purchases.
Film Crew & Talent
Crews. Best to bring in directors, directors of photography and stills photographers. Barbados has some local videographers and stills photographers suitable for smaller shoots. Key crew is available in Barbados and some neighbouring islands, such as art directors, grips, gaffers and sound operators and stylists.
Contact us if you are looking for a director, DP, photographer, videographer (cameraman / camera operator), camera assistant (focus puller), sound operator, grip, gaffer, stylist, hair and makeup, PA / runner, production driver, or any other film crew for your shoot in Barbados.
Talent day rates and buyouts are negotiable. English is the official language. Most Barbadians are of Afro-Caribbean descent with some East Indian, Middle Eastern and Caucasian looks also available. All other talent looks need to be brought in from abroad. English is the official language. Many celebrities travel to the island during the high season.
Barbados Film Equipment
Equipment. Some standard grip, lighting and camera equipment exists locally including ARRI HMI 4Ks, ARRI 6K, ARRI 575/ 1.2 HMI 2.5, ARRI Tungsten Kits and Frames, Matthew Dolly and track. Additional gear can be easily brought in from Miami, only a 3.5hr flight away. For productions intending to bring in equipment Barbados is not an ATA carnet country, but the process of bringing in gear is quick and easy. Our Barbadian fixer / service producer will provide you with an invitation letter and meet you at the airport to ensure quick and easy customs clearance.
Communications. Communication is key. Our agility and global experience allows us to customise the right communications systems for every shoot.
Web posted casting, scouting, and videoconferencing.
For clients that are unable to attend set we offer a virtual video village solution. This dedicated and secure high-resolution video streaming platform allows clients from one or multiple timezones to view setups without compromise and to participate in real-time with the team on set. Separate systems can be set up for the discrete conversations that are required to make a job run right. Working remotely with our local teams reduces your content production costs, turnaround times, carbon footprint, and risks associated with unpredictable global events.
Art Department, Studios, Backlots, & Post Production
Art department and set construction is basic, although elaborate sets have been constructed in the past.
Studios. Locations are the main reason productions visit Barbados. The island has some small studio facilities suitable for basic product shots, for instance.
Post Production. Barbados has some basic post production facilities.
Visas & Work Permits
Most nationalities can enter visa-free for stays of 30 to 180 days, depending on the passport you are traveling on. Our Barbadian service producer / fixer will provide you with an invitation letter to ensure quick and easy entry for your crew and equipment.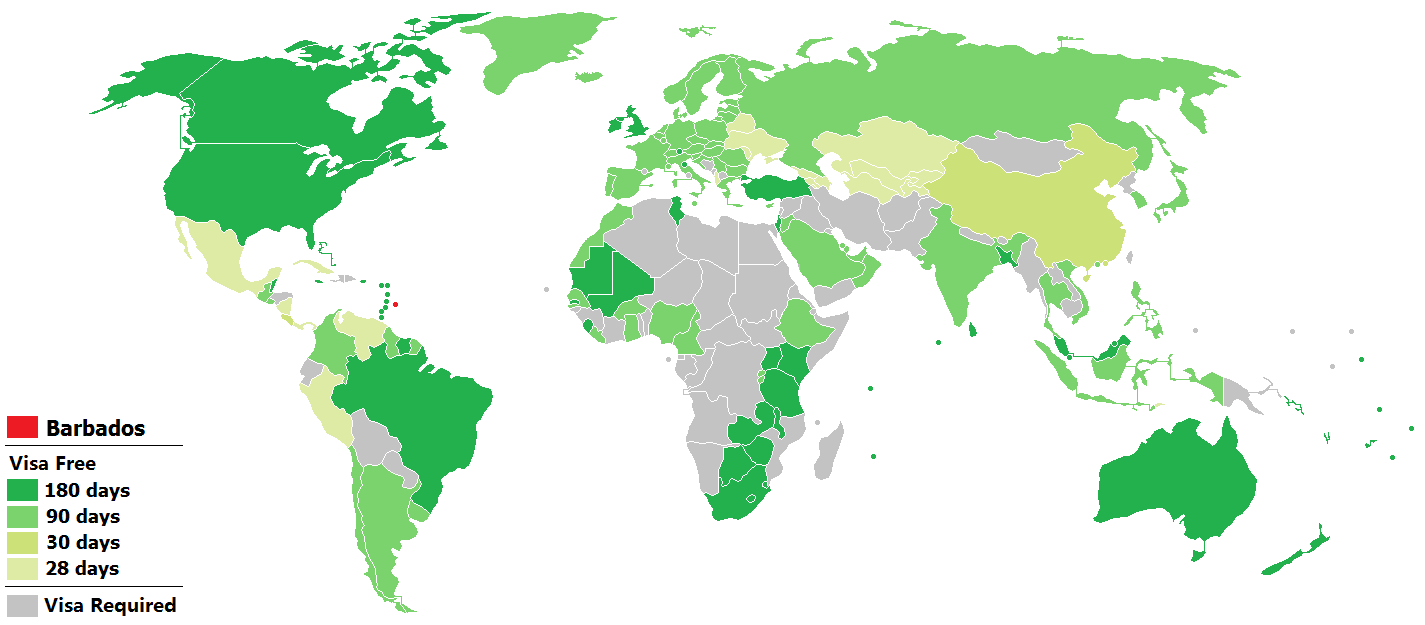 Transport & Accommodation
Transportation Infrastructure. Main roads are in a good condition but side roads can be quite potholed. Several international airlines service flights to Barbados.
Accommodation. See here for recommended film friendly hotels in Barbados.
Final Notes
Safety. Barbados is a safe and reliable place for foreign productions to visit. Our local fixer / service producer can arrange additional security for those requesting it. See here for up to date travel advice.
Down Time. Steel pan bands and calypso beats… Party and eat at the Oistins Fish Fry with Bajans and tourists alike.
Projects. For an example of TV commercials, stills campaigns, online content, corporate videos, virtual reality 360 content, feature films, TV series and documentaries Barbados, please see below:
Hire Barbados Production Support & Shooting Crew
If you are looking for a film or photographic production service company, line producer or fixer for your shoot in Barbados, please contact us.
If you are looking for a shooting crew for your shoot in Barbados, such as a director, DoP, photographer, videographer (cameraman / camera operator), camera assistant (focus puller), sound operator, grip, gaffer, stylist, hair and makeup, PA / runner, production driver, please contact us.
We are able to provide you with answers, references and bids quickly.